Valentine's Day…It evokes different reactions depending upon who you ask.  Love. Cynicism. Happiness. Panic.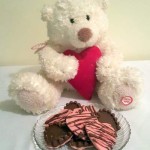 It's definitely a day for love.  In the coming weeks, we'll see tons of images of cupid, hearts, and engagement ring commercials.  Did you know that an average of 220,000 marriage proposals are made every February 14th?  Chocolates have long been synonymous with Valentine's Day.  Even as far back as the 1800s, physicians would prescribe chocolate to the lovesick to ease the pangs of lost love.  Well, we've got your chocolate cure here at Southern Sweets this year with our Choco-Berry Sweethearts and Choco-Cherry Sweethearts.  These are the perfect gifts for your sweetheart!
Some people hear Valentine's Day and think it's just a day Hallmark created.  There's no denying that Hallmark loves the holiday.  About 1 billion Valentine's Day cards are exchanged in the US each year.  But don't limit your idea of the day's gift exchanges to just significant others.  Don't forget the other's in your life to which you want to show some love and appreciation — family members, teachers, friends, coworkers (don't get into trouble with any HR rules here), neighbors, and your favorite hired professionals.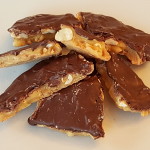 And there's nothing wrong with showing a little love to yourself. Approximately 15% of women send themselves flowers on Valentine`s Day.  Flowers are definitely popular this time of year and are often the go-to gift for men to give that special person in their lives.  73% of people who buy flowers for Valentine's Day are men.  This year, why not shake things up a bit and treat yourself or that special someone with some gourmet treats like some Choco-Peanut Butter Brittle?
Valentine's Day is fast approaching, so be sure to place your orders soon to ensure delivery for the ones you love and want to celebrate this year!